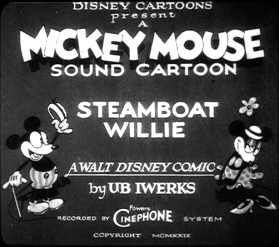 November 18th is widely regarded as Mickey Mouse's birthday. He actually made his debut earlier than that in May of 1928 in Plane Crazy, but his real success began with the iconic Steamboat Willie that debuted in November of the same year. So, today you're going to see a lot of pictures of Walt Disney and Mickey Mouse, and you may even read some stories of napkins and trains.
While that is deserved, it's also somewhat misleading. Mickey may be Walt's brainchild, but the man that shaped him and created the look and personality that made Mickey so endearing to audiences was a man named Ub Iwerks. I think it's important to take a look at this today, because without the contributions of Iwerks, Mickey may not even exist today – or at the very least, exist in a vastly different form than we are familiar with.
While Walt may have come up with that first rough sketch of a mouse character, Ub would ultimately be the one to create the version of Mickey you saw in the cartoons. Prior to Mickey, Ub also created a horse and cow character that would later become Horace Horsecollar and Clarabelle Cow.
If you watch some of the earliest Mickey Mouse cartoons, you'll see the words in the opening slide "A Walt Disney Comic – by Ub Iwerks." That's really the only credit that's given, and that's largely because those short films were animated almost entirely by Ub himself. Some of the most famous cartoons in history were drawn by a single hand. Watch some of Disney's or Pixar's recent animated shorts and you'll see those take dozens of people to complete. It's incredible that the course of animation and the most famous cartoon character ever would be accomplished by one single person.
And yet, Ub's talents didn't lie strictly in animation. Iwerks can lay claim to some spectacular engineering and special effects feats as well. Disney history buffs are no doubt familiar with the multiplane camera, a device that allowed for unprecedented depth in animation by separating the drawings into different layers and moving those layers closer or farther away to the camera to achieve an illusion of depth. It was actually Ub Iwerks who began working on a similar camera while he was no longer working for Disney.
He returned to work for Disney in the 1940s, and continued with coming up with innovative ideas for on-screen effects. He is credited with developing the method for combining animation and live actors in Song of the South. Similarly, he was a co-recipient of an Academy Award in 1965 for the use of a sodium vapor process used in Mary Poppins. Not only that, but Iwerks worked with Alfred Hitchcock to create special effects used in the classic film The Birds.
He's even influenced technology in the Disney Parks. Iwerks worked on developing projection methods used in classic attractions like The Haunted Mansion. He also came up with the idea for a 360-degree camera, an idea you can still see in motion in circle in films like O Canada! and Reflections of China. His son, Don, was also instrumental in developing similar technologies at Walt Disney Imagineering.
The point of all this is simple: Walt once said it was all started by a mouse. The immediate follow-up to that is that the mouse had to get his start, too. In so many ways, Ub provided that start. He was a hard-working, creative, mechanical and artistic genius that made Mickey into a lovable character that would survive generations. The charm in his earliest films is undeniable, and so much of that is owed to Ub Iwerks – even more so than Walt himself.
So, today, it's appropriate to celebrate the anniversary of Mickey's ride on that steamboat. It's also appropriate to celebrate Walt, the man with the ideas, drive, and creativity to create an empire on the back of a mouse. But it's also appropriate to celebrate the one person who brought Walt's vision to life, and doing so almost single-handedly, spending countless hours at a drawing table.
Happy birthday, Mickey – and thank you, Ub!